If you want to be a highlight among the exhibition events and are also looking for ways to increase your contact to the visitors, then we have just the right thing for you:
Whether it's the placement of your logo, advertising banners or advertising spots – the DLG Feldtage Communications Package offers you a broad range of possibilities!
Put together your own individual package from the advertising measures offered. We guarantee you easy processing: You simply provide us with printable data and we'll do the rest!
You can book the offers via the Exhibitor Service Portal. All prices are quoted without the legal value-added tax.
Attention: The packages are subject to limited availability. Don't wait, book now!
Registration deadline if not otherwise noted in the offer: 31 March 2022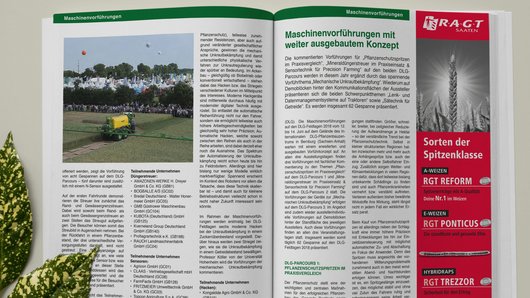 Your advertisement in the official exhibitor catalogue
Magazine format with a circulation of over 92,000 copies (reservation already possible)
+ GetreideMagazin issue 3/22 in the run-up to the field days
+ Shipping to all DLG members in the run-up to the field days
+ Distribution in the checkout area of the DLG Field Days during the Field Days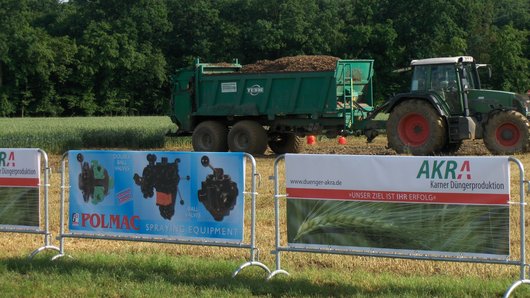 Two banners will be mounted on fencing elements for you and placed in conspicuous positions round the perimeters of the four DLG tracks.
The four DLG tracks:
Technology for mechanical weed control by means of hoeing and harrowing
Practical comparison of crop protection sprayers
Practical comparison of mineral fertiliser spreaders and practical comparison of N sensor technology
Technology for lifting, loading and filling on the field
Dimensions: 2.14 m w x 0.775 m h
Limit: three exhibitors at each track
EUR 1,900
NEW! Disinfectant stand advertising
Safety first! Whether at the entrance, in the catering area or in the forum, we will be making sure that hands can be disinfected. Your company logo will be displayed on the information boards of the disinfectant stands.
Limitation: two exhibitors on the information boards of the disinfectant stands
EUR 4,500
We're looking forward to receiving your suggestions, questions and reservations:
Kai-Uwe Busch
+49 (0) 69/ 24788-483
As at October 2021, subject to alterations.