"Powerful and exact for precision farming" – agricultural machinery and equipment displayed their skills in practical comparisons twice a day throughout the event!
European cropping comparisons for winter wheat
Which variant in the competition achieved the highest performance free of direct costs? You could learn about the cultivation philosophies of the 11 teams and draw conclusions by analogy for your own production.
Expert forums
Around 100 experts from practical farming, business, academia and consultancy and extension services expressed their views on current production-specific and agribusiness questions.
Your Location. Your crop production.
Guiding theme of DLG-Feldtage 2020.
The technology, farm inputs and location must fit together to successfully structure crop produc-tion. The guiding theme of the dLG-Feldtage offers you as an exhibitor the opportunity to present your possible solutions for individual cultivation conditions while taking the soil, climate and structures into account. Show farmers as decision-makers which solution or strategy exactly matches their location and crop production!
DLG-Special Organic farming
Here you have the choice of either a stand area in the trial field or of a stand stand on grass. And you can also book slots for the machine demonstrations and presentation time in the trade forum for organic farming.
DLG-Special Liquid manure and fermentation residues
The Special for need-oriented, efficient, environmen-tally friendly organic fertilisation. offer your ideas, systems, services and products for the efficient use of manure and fermentation residues on a special stage.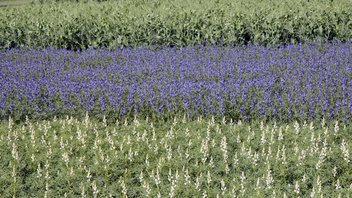 DLG-Special Legume family
This plant family has the potential for crop rotation and supports soil fertility for resource-saving crop production The Special serves as a contact point for practitioners, consultants and decision-makers to obtain information on cultivation, management and utilisation of grain legumes.